Heat Pumps: the most economical heating solution that respects the environment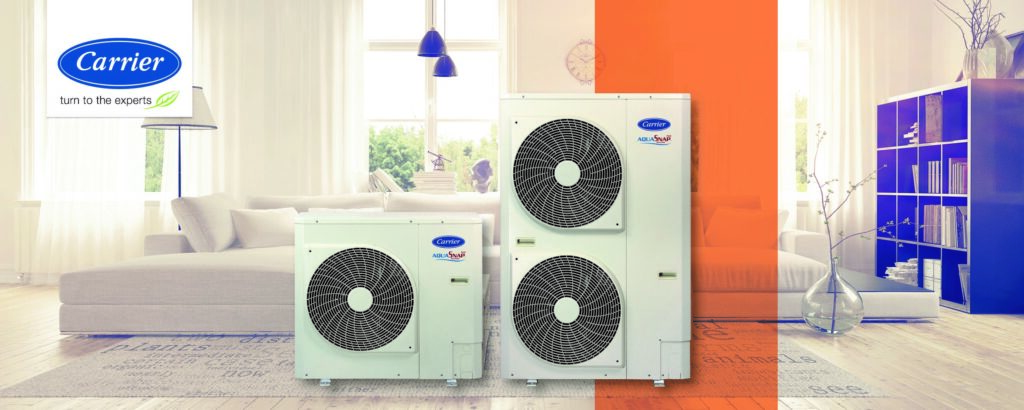 The heat pump is a heating and cooling system based on the most sustainable principle of operation: instead of generating heat by consuming energy, it pumps (hence the name "pump") the heat that already exists in the environment and transfers it to our space .
Air-to-water heat pumps are currently the most widely used heating and cooling medium in the world, with uses covering all sizes and types of buildings, whether for homes or large businesses.
How does the Heat Pump work?
The air-water heat pump takes the thermal energy that exists in the ambient air and brings it into our space, heating the indoor air, as well as the water the household uses.
Consumes minimal electricity and only during the heat pump phase. In fact, of the total heat produced, only 25% is attributed to the use of electricity. This means that 75% of the heat generated by heat pumps comes entirely from thermal energy pumped from the environment, ie from a completely free, renewable and clean energy source. In this way, the heat pump manages to be the most economical heating system in existence.
8 important reasons to choose Heat Pumps
It is the most economical heating solution: according to the study of the National Technical University of Athens "Comparison of heating costs from different technologies", heat pumps offer savings: 33% from pellets, 44% from closed energy fireplace, 38-45% from natural gas, 61% from oil and 71% from electric boilers.
They are subsidized by many public aid programs, as they are environmentally friendly, are classified in renewable energy sources and do not emit any pollutants.
They are connected to the existing hydraulic system of radiators and can easily replace any boiler, without the need for work inside the house.
They do not require a special boiler room or chimney.
They have the lowest maintenance costs compering to any complete heating-cooling system.
They offer very economical hot water for use while some pumps can be combined with an existing solar collector.
They work in heating and cooling even in the most extreme conditions.
The amortization of their initial investment is done immediately as the economy resulting from its use is extremely large.
Carrier Heat Pumps for up to 80% savings!
Carrier heat pumps feature Twin-Rotary DC Inverter dual-rotary compressor technology and energy efficiency certification from the independent Eurovent certification body *.
Thanks to their modern technology, they achieve high energy efficiency up to 120% in relation to their nominal power, without emptying the family wallet. Energy and financial savings can reach up to 80% compared to using an oil burner, while also offering hot water up to 60°C and air conditioning in summer.
With small size and easy installation, they are suitable for apartments and houses, as well as for business premises such as doctor's offices, restaurants and hotels.
They can be connected to floor, ceiling, suspended ceiling, underfloor heating systems and solar panels for even more flexibility and economy in existing or new heating systems.
Advanced Technology for High Energy Efficiency
Carrier's modern heat pumps are equipped with a GMC processor and digital controller and combine two electronic control parameters to optimize compressor operation in all operating conditions. Thus, the Twin-Rotary DC Inverter hybrid compressor can quickly reach the desired temperature and maintain it with unbeatable energy efficiency. In addition, they are very easy to use with a large control screen to select the temperature and schedule the operation on the days and hours you want.
For the most reliable heating system, turn to the experts
Carrier is the company founded in 1915 by Willis Carrier, the inventor of modern air conditioning, and since then until today has not stopped innovating in the field of professional and home air conditioning.
The largest and most important buildings in the world, constructions with very different air conditioning needs and special technical requirements, such as the Sistine Chapel at the Vatican, the Sydney Opera House in Australia, the Onassis Foundation and the Acropolis Museum in Athens, and many more, have trusted Carrier for their air conditioning.
The Carrier R&D team has one of the largest technology research facilities for HVAC systems. Our laboratory is unique in Europe, both in terms of cooling capacity coverage, and for the accuracy of measurements it provides and its compliance with the standards EN 14511 and EN 14825.
Carrier Heat Pumps meet and exceed European ecodesign requirements for energy savings and carbon footprint reduction.
By choosing Carrier, you choose the experts. You choose the inventor of modern air conditioning.
Discover Carrier Heat Pumps here.
* Eurovent verifies and certifies that the performance and technical characteristics of the air conditioners fully comply with European and international standards. A Eurovent certified device is guaranteed to deliver what its manufacturer states. In order for a device to bear Eurovent's certification stamp, it has passed the strict control protocols of the independent authority and has been accurately evaluated. Learn more.